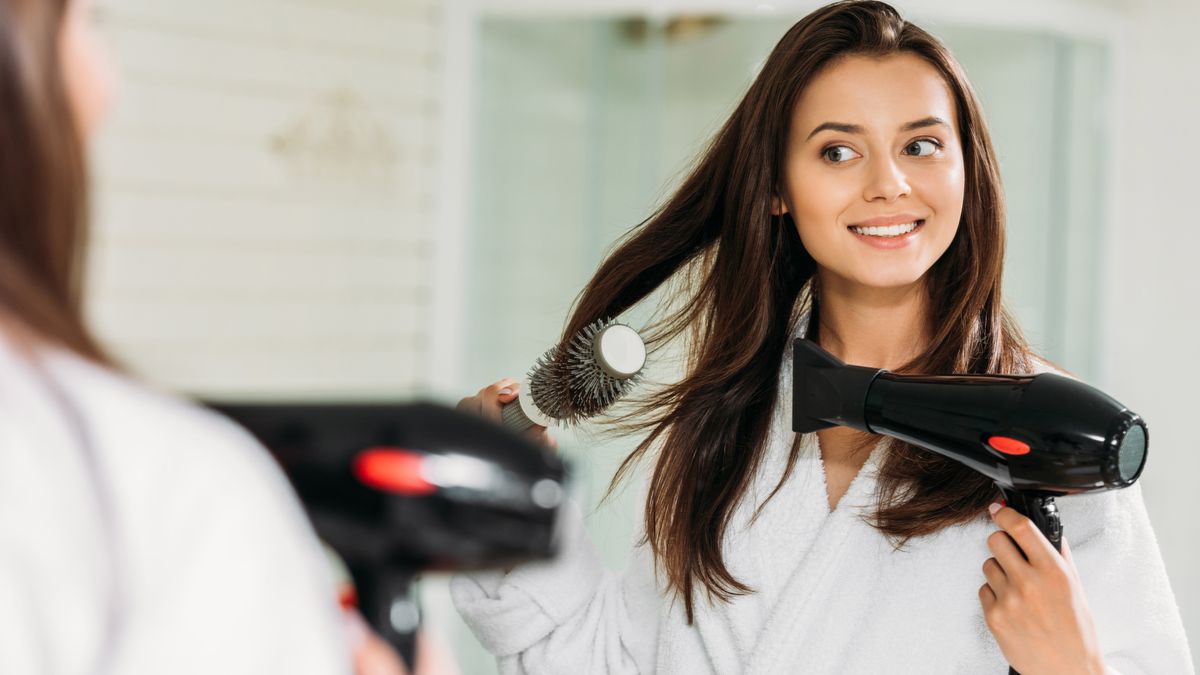 Drying with a hairdryer at home is a great way to take your hair from dull to gorgeous without setting foot in a salon. However, for some of us what should be a relatively straightforward task can be a bit confusing.
While having one of the best hair dryers is half the battle when it comes to creating a 'living room' feel, knowing which heat and speed setting to use when it comes to creating different styles can be a bit confusing. While it's tempting to turn the speed and heat settings on to maximum, it's not always the best solution and it could damage your hair.
We spoke to celebrity hairstylist Jen Atkin (hairstylist for the Kardashians, J-Lo, and Chrissy Teigen – to name a few), and she revealed that no matter how good your blow dryer is, the secret is to tailor your routine to your hair.
"There is no one-size-fits-all method and that's why you have to study your hair and determine its specific needs," Atkin said. "You may need more or less airflow and heat depending on your hair type (fine, wavy, curly or coarse)."
Want to get yourself one of the best hair dryers right now? Discover the best prices offered now.
What's the harm in blowing your hair on the highest heat setting?
As tempting as it may be, it is not advisable to put your hair dryer on full throttle and blitz your mane with the highest heat and power.
"Unfortunately, most hairdryers expose your hair to excessive temperatures at rapid speeds, causing unnecessary and irreparable damage and thermal breakage." Atkin pointed out.
Why? Because, in the short term, you will not get results in the salon and in the long term, you will damage your hair.
That said, Atkin said there are hair dryers on the market that take steps to ensure they don't cause extreme heat damage regardless of the heat setting used, such as Dyson Supersonic. This hair dryer measures the temperature over 40 times per second, ensuring that it never exceeds the selected temperature and preserves the integrity and natural shine of your hair.
Our goal is to maintain the integrity of our hair while providing it with the bounce and beauty we see on Hollywood screens. It's not too much to ask, is it?
What are the best hair dryer settings for fine hair?
Especially when blow drying fine, thin hair, it's best to minimize the use of the highest heat setting… or avoid it altogether. Instead, going for the medium heat setting and the lowest speed will give you styling flexibility without compromising the condition of your hair.
If your hair is fine but you have a lot of it, you can afford to speed up the speed setting for body and styling. However, if your hair is both thin and sparse, we recommend that you stick to the lowest speed. This will prevent tangled and worn out ends that could lead to more brushing and / or styling tools… and ultimately breakage that you just can't afford.
Another tip when brushing thinner hair is to blow dry in one direction, using a brush; this will help you avoid flyaways. At the end of your hair drying session, we encourage you to use a final blow of cold air to lock in some shine (always on the lowest speed). The sleek and shiny look is the USP of fine hair, so don't miss this final step.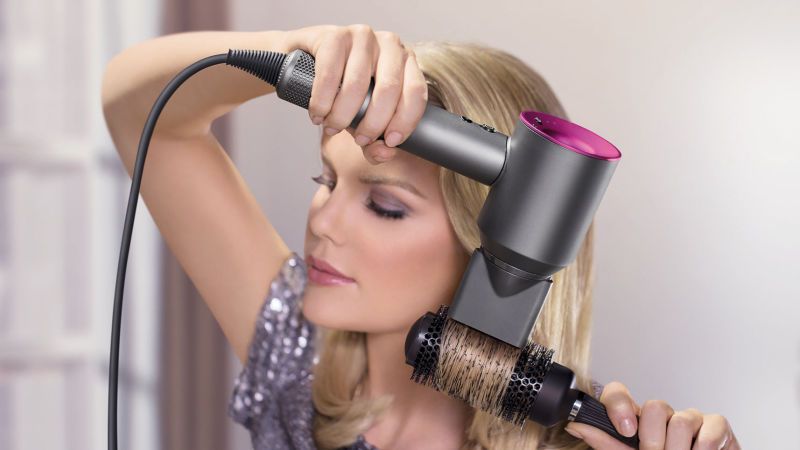 What are the best hair dryer settings for thick hair?
Thick hair is notorious for being difficult to tame, which is why many people with thick locks fall victim to the fastest, hottest trap. It's no secret that with an unruly mane, broken hair ties and hairdryers never got to show their lower settings. This hair dryer neglect ends today!
Have you ever wondered why your hair rarely seems to cooperate and why after a blow-dry session you are faced with frizz galore? This is because you are overcompensating your thick hair with the highest heat setting.
In fact, the best heat setting for thick hair is the medium setting, coupled with the highest speed. This suit is the perfect fit for thick hair as it minimizes heat damage while getting the job done quickly. Tip: Make sure your wet hair has already been partially towel-absorbed and naturally dried before applying heat.
What are the best drying settings for curly hair?
To know which blow dryer settings are best for your curly hair, you need to know what type of curls you are working with. The more the hair is coiled, the higher the heat setting should be. (See below for our afro hair tips.) For lighter curls, it's best to stick to the low and medium heat settings to avoid frizz and breakage.
Beyond the heat setting of your hair dryer, all expert advice seems to indicate that a diffuser accessory should be your best friend. We celebrate curls and believe the bigger the better.
A diffuser accessory will revitalize your locks and make your curls bigger and more bouncy. Improving your natural shape is the ultimate goal when drying curly hair, so investing in a diffuser and sticking to the lowest heat settings and medium speed will work like a treat.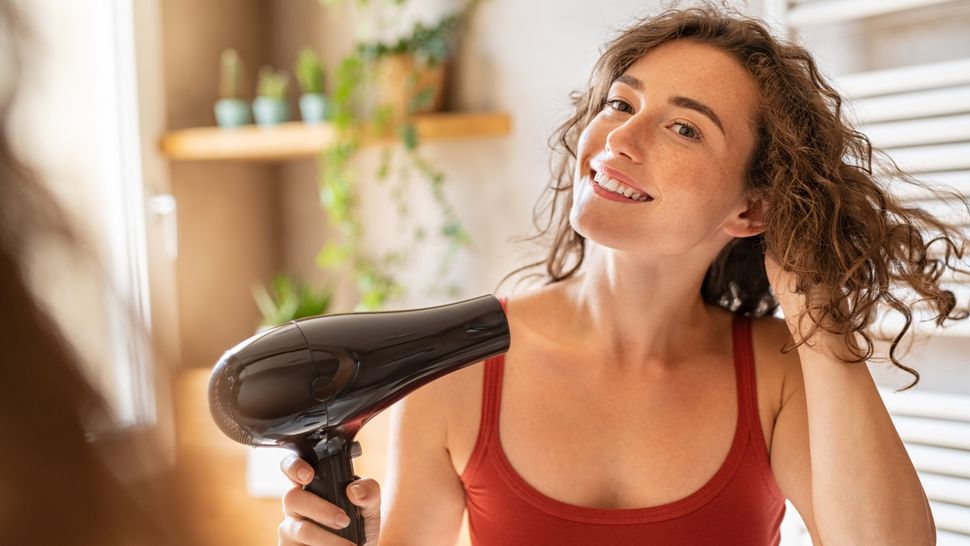 What are the best hair dryer settings for afro hair?
On the other hand, Atkin explains that afro hair, or type 4 hair, requires a different approach. First of all, it is recommended that you go for an ionic hair dryer that locks in moisture while drying your hair as dry heat is the enemy of afro hair. Next, it is important to distinguish between natural afro hair and chemically treated Type 4 hair, such as relaxed or textured hair.
As a general rule of thumb, the best blow dryer setting to use on afro hair is the lowest heat that will allow you to achieve the desired results. When it comes to speed setting, the higher speed will usually be your best bet.
So, if you are dealing with natural afro hair, it is recommended that you stick with medium heat, giving your hair a blast of warm air every now and then. Alternatively, if you are working with chemically treated afro hair, experts suggest that you avoid the highest heat and stick to the lowest heat setting only. However, for both hair types, setting the higher speed will give the best results.
"Depending on what style you want to achieve, I would use a combination of styling accessories," Atkin said. She recommended a diffuser, which disperses the airflow to make sure the curl pattern of the hair is not disturbed, as well as a wide-tooth comb, if you want a vibrant look, starting with the leather. scalp to lengthen hair.
"If you want an even sleeker straight look, then I would use hair straighteners, such as the Dyson Corrale, to finish the style.
What are the different hair dryer accessories used for?
With cutting edge technology and designs, today's hair dryers don't just dry your hair, they also offer plenty of styling solutions. Knowing which accessories to use is almost as important as mastering the perfect combination of heat / speed setting for your hair type.
Getting the most out of hair dryer accessories can really simplify the hair drying process and even work in place of other hair tools, minimizing the time spent styling your hair and the amount of heat you apply to it.
The diffuser accessory is the essential accessory for anyone with curly hair. Bowl shaped with comb teeth in the center, the diffuser is your secret weapon in dispersing air through all of your separate strands to prevent frizz and enhance your natural style.
The selection accessory looks like a wide tooth comb that you attach to the end of your hair dryer for added volume. Choose your preferred length based on your hair length.
The concentrator nozzle is the standard accessory that comes with (almost) all hair dryers. The importance of this add-on cannot be overstated and it pains us to see people ditch it for a faster blow-dry. Offering control and targeted airflow, the concentrator should be used with a brush to create tension in the hair and deliver the ultimate sleek and shiny blow-dry.
What is the cold air hair dryer setting for?
If you are guilty of neglecting the cold air setting on your hair dryer, using time as an excuse to ditch the blue button, it stops today. After talking to Atkin, we realized that setting the cold air was the finishing touch we were missing… The reason our locks were missing I do not know what.
"A cold setting closes the hair follicle, which seals in the style and makes the hair shinier. You can use the cold setting at the end of your blowout to complete the look. Jen concluded. So it's official, a last breath of cold air is the secret step to getting shine and hold.